Painter (m/f/d) in Rechlin an der Müritz
An indispensable work step in the production of ships is the precise and carefully applied coating. Only your work can ensure that the paint is of optimum quality and cannot be damaged. The work on our charter fleet and private boats, but also the handling of the different materials, such as steel or plastic, make this profession very varied.
What are your tasks?
surface preparation of boats, e.g. cleaning, filling, sanding and priming
surface coating/preservation, as well as surface treatment of various materials (steel, aluminium, GRP, etc.)
follow-up work, e.g. disassembly and assembly of components
independent execution of work, control and documentation of the work steps carried out
operate, monitor and maintain the necessary equipment, e.g. cutting & grinding equipment, paint spraying systems, paint rollers and experience in handling sandblasting equipment is advantageous.
What can you expect?
work in a young, dynamic team
a variety of tasks
What requirements do we have?
completed training as a process mechanic for coating technology (m/f), industrial or vehicle painter (m/f) or a comparable qualification
experience in the various application processes of coating technology
reliable, careful and clean way of working in the implementation of orders
high degree of reliability and sense of responsibility
flexibility and ability to work in a team
technical understanding and manual dexterity
experience in the handling of job-specific tools, such as cutting and grinding equipment, paint spraying systems, paint rollers and experience in the handling of sandblasting equipment would be an advantage
What do we offer?
unlimited employment contract
opportunity to acquire a boating licence
cost sharing in the form of fuel vouchers, etc.
accommodation can be provided temporarily
What now?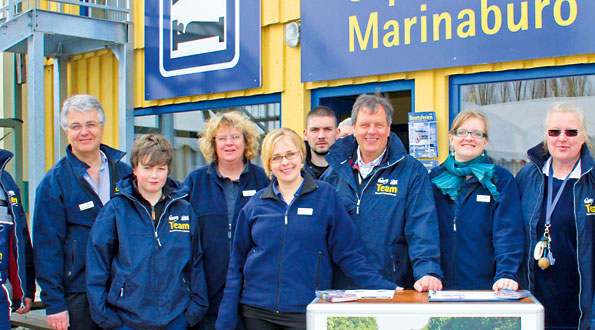 You could find yourself in the job description and would like to apply with us? Then send us your application, preferably by E-Mail.
If you have any questions, please do not hesitate to contact Mrs Piethe.
KUHNLE-TOURS GmbH
Hafendorf Müritz
17248 Rechlin
E-Mail: jobs(at)kuhnle-tours.de
Telephone: 0398 23 266 45

Welcome Centre Mecklenburg Lake District
Are you new to the Mecklenburg Lake District region or considering moving here?
The Welcome Centre Mecklenburg Lake District offers you good arguments, but above all active support.
Whether you are looking for accommodation, career advice or family accommodation - here you will find answers to your questions.
Who we are
Kuhnle-Group is one of the most versatile employers for the boating world in Mecklenburg-Westerm Pomerania. No matter, if you would like to work in a craft job at our own shipyard, in job at the gastronomy at our restaurant, at an commercail job at our office or a job as an technian at the harbour - all of this is poosible. Our employees got diffrent backrounds and talents. We offer job oppotunities at almost every field in Mecklenburg-Western Pomerania. For those who like to think outside the box and spend their time at the water, there is much to discover. Our team is colourful mixed: old and young, trainees and old hands are connected by their love of boating and living at the water. Who is interessted in a job at the harbour or at the water and who loves Mecklenburg Lake District, is quite right here.
Location: Rechlin
to the request