Why should you work at KUHNLE-GROUP?
Who we are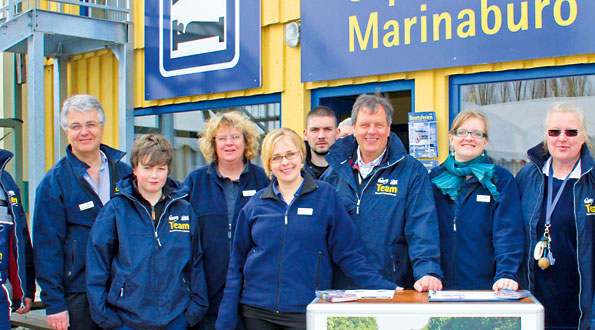 The Kuhnle Group is one of the most versatile employers in Mecklenburg-Vorpommern for the boating world. We have something for everyone, whether it's a craft job in the shipyard, a catering job in the restaurant, a commercial job in the office or a job on the docks as a technician. Our employees bring a wide variety of CVs and talents. We offer many job opportunities for almost every field in Mecklenburg-Western Pomerania For those who like to think outside the box and enjoy spending time on and near the water, there is much to discover. Our team is a colourful mix: old and young, trainees and old hands are united by their love of boating and life on the water. If you are interested in a job at the harbour or a job on the water and love the Mecklenburg Lake District, you have come to the right place.
From the very first day of work, you are part of a well-coordinated team with national and international employees from the EU, such as France, and from third countries, such as Colombia. Employees from our neighbouring country Poland are also an important part of the team.

It is important to us to promote and integrate international employees. Various languages such as English, Spanish, Russian, Polish, Serbian, Tajik and French are represented. We communicate with each other in English and German. To reduce language barriers and major misunderstandings, we offer the opportunity to improve language skills in German. When dealing with authorities and applications that have to be filled out before arriving and starting work, we are at your side and help you to process forms.
The experience that many of our employees bring with them from abroad is particularly valuable in tourism and can be put to good use here. It is important to us to treat all colleagues with dignity and respect. We value and integrate everyone regardless of ethnic origin, gender, age, skin colour, sexual orientation, disability, religion or ideology. We stand for tolerance and individuality.

Three management positions are held by women (reservation, back office and gastronomy). We also welcome people with physical disabilities. We welcome every new employee who wants to become an important part of our diverse team. Places of employment can be at our main base in Rechlin an der Müritz, but also in Priepert, Zeuthen, Zehdenick and Niderviller (France).

KUHNLE-TOURS is family-owned more than 40 years after its foundation and will remain so in the future. We give our employees the greatest possible responsibility and a lot of freedom. Our decision-making processes are short. Employees are encouraged to create the basis for innovations. We continuously develop new products and offers. Almost all our developments have been copied by our competitors. Our employees are constantly working on digitalisation and the expansion of the software we use.