Management Assistant for Tourism and Leisure
Place of training: Hafendorf Müritz, Rechlin
Start of training: every year on 01 August
While your trainee managemnet assistance for tourism and leisure you learn how to organise (marketing) events. At our habour office your care for our guests and support them at arrival and departure day. But don`t think, your are only at the office. Preparing the boats and working at the bridge also is a large part of your trainee. How you can see, a colourful and varied day waits for you! You will learn everything you need to know how to advise our guests in the right way and how to create attractive programms for them.
What are the tasks?
general administrative duties
Participation in events and fairs
planing of events
exchange with base in france
What can you expect?
work in a young, dynamic team
a variety of tasks
What requirements do we have?
completed school education
enjoy selling
independent working
team spirit
foreign language skills advantageous
What do we offer?
payment above average
boat license
variety of tasks
Duration of vocational training
The vocational training lasts 3 years.
What now?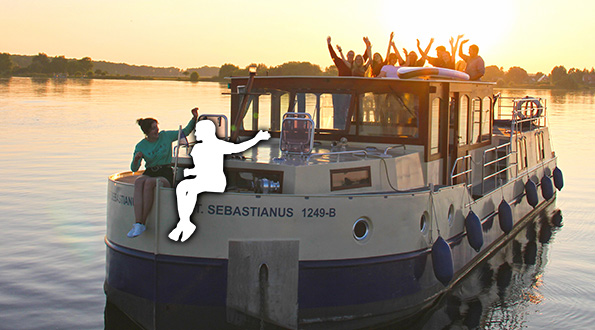 Do you fulfill our requirements and want to apply? Please send us your complete and convincing application, preferably via E-Mail.
We also conduct job interviews as video conferences!
If you have any questions please do not hesitate to contact Mrs Piethe.
KUHNLE-TOURS GmbH
Hafendorf Müritz
17248 Rechlin
E-Mail: jobs(at)kuhnle-tours.de
Telephone: 0398 23 266 45
Welcome Centre Mecklenburg Lake District
Are you new to the Mecklenburg Lake District region or are you considering moving here?
The Welcome Centre Mecklenburg Lake District offers you good arguments, but above all active support.
Whether you are looking for accommodation, career advice or family support - here you will find answers to your questions.
Who we are
Kuhnle-Group is one of the most versatile employers for the boating world in Mecklenburg-Westerm Pomerania. No matter, if you would like to work in a craft job at our own shipyard, in job at the gastronomy at our restaurant, at an commercail job at our office or a job as an technian at the harbour - all of this is poosible. Our employees got diffrent backrounds and talents. We offer job oppotunities at almost every field in Mecklenburg-Western Pomerania. For those who like to think outside the box and spend their time at the water, there is much to discover. Our team is colourful mixed: old and young, trainees and old hands are connected by their love of boating and living at the water. Who is interessted in a job at the harbour or at the water and who loves Mecklenburg Lake District, is quite right here.
Location: Rechlin
to the request